Second Storey Additions in Toronto, ON
Expand Your Home with Our Help
For many homeowners, their house is their pride and joy. Not only do you get the satisfaction of owning your property, but you also get the chance to customize your space exactly to your liking. Unfortunately, as families grow and need change, you may find yourself requiring more space than your current Toronto home can offer. Before you put your house on the market, talk to the team at Modular Home Additions. We can provide you with a quick, attractive second storey addition. Our modular concept allows us to build second floors with both speed and quality in mind. Learn more about this exciting service.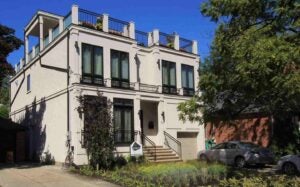 What Is a Second Storey Addition?
A second storey addition is exactly what it sounds like—adding on to your home by creating or extending your second floor. At Modular Home Additions, we take a distinct yet straightforward approach to home expansion. All our floors, walls, and roofing materials are factory-built and ready to go. That means we can have your project finished in just three days! However, factory-built doesn't mean simple and boring. We can still custom-design your second-floor addition to match the style you desire.
Advantages of a Second Floor Addition
A modular second storey addition comes with a plethora of benefits. We're excited to share the many advantages of this construction method with Toronto-area homeowners. When you work with us, you get all the benefits of a specially designed-home addition without the time commitment. Here's a brief overview of the advantages of our service:
Speed: Choosing a modular home addition means a quick turn time on your project. You won't have to worry about living in a construction zone for weeks as you wait for the project to wrap up.
Customization: Just because our materials come straight from the factory doesn't mean you won't have a say in the design. We can customize your second storey addition to your specifications.
Increased Living Space: With a modular home addition, you can nearly double your living space in a fraction of the time most construction projects require.
What Do I Need for a Second Storey Modular Addition?
Not every home is an ideal candidate for a second-storey modular addition. Before getting in touch with Modular Home Additions, you'll want to decide if you meet the following requirements:
Exterior Dimensions: Ask our team about our production sizes. The exterior dimensions of your home must be compatible with these sizes. If the dimensions do not match, you can still invest in a second-storey addition, but modular addition may not be the most practical choice for you.
Strong Foundation: Your existing home must have a stable, structurally-sound foundation that will be able to hold the extra weight. Some homeowners may want to fortify their foundation to make it better able to support a second floor.
Sufficient Space: At Modular Home Additions, we cannot accept projects of less than 500 square feet.
Toronto's Home Additions Specialists
There's nothing wrong with a single-storey home but just think of all the extra space you could have with a whole second floor. At Modular Home Additions, we strive to be Toronto's experts in modular second-storey additions. We specialize in getting you the results you want quickly with minimal hassle to you and your family. We're happy to sit down with you, learn about your needs, and explain our process more in-depth.
Why Choose Us?
Hundreds of homeowners have chosen Modular Home Additions in our history spanning more than 20 years. Our customers come away satisfied with their results, and we often receive repeat business. Our team specializes in all kinds of work, even beyond second-storey additions. We're also the go-to for home renovations, and much more. Plus, you can always expect speedy results and world-class customer services whenever you speak with a member of our staff. Read through our testimonials to see why so many Toronto residents have chosen us.
Reach Out to Our Team Today
Is it time to expand your home? Perhaps your growing family needs more space, or maybe you'd just like more storage space. No matter your motives for adding a second floor, Modular Home Additions can help. We work with customers throughout Toronto, taking them one step closer to the home of their dreams. If you don't know where to start, our friendly staff will be happy to discuss your options and walk you through the process. Contact our team today to learn more about what a second storey addition could mean for you.