Side Home Additions in Toronto
After living in your Toronto, ON, home for many years, your family structure may eventually change, or you might need more space in your home. Maybe you have more children, want an extra room for your hobbies, or need an additional guest room. Whatever the reason, the best way to get some extra space in your home is with one of the high-quality home side additions from Modular Home Additions in Toronto, ON. We offer convenient side additions that give you a high-quality home addition at a lower price than a traditional addition, all without sacrificing quality! Since most of the construction is done off site in our factory, the amount of time we'll have to spend expanding your home will take as little as a day or two! Get in touch today to learn more about designing the perfect side addition for your home.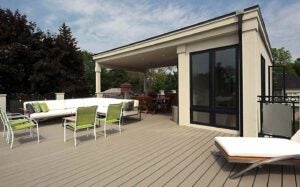 A Seamless Process
If you're worried about changing your property's look with an addiction, there won't be any stark visual differences once your side addition is installed—everything will seamlessly connect in your desired style. Modular additions are required to meet strict manufacturing and building codes on a local and provincial level, and we make sure to adhere to them to the letter. In addition, one of the benefits of choosing Modular Home Additions for a home side addition project is that we take care of all the permits necessary, so you don't have anything to worry about. All you have to do is enjoy the final product. You and your family will benefit from and enjoy your new spacious side addition.
We Take Care of The Details
When you choose Modular Home Additions to help with an addition to your home, we'll assist you through every step of the process. We'll discern if a side addition is feasible and brainstorm with you throughout the design phase. With nearly 20 years of experience, we'll help you achieve a stylish final product. From a sunroom to a bump-out to a garage conversion, the possibilities are endless, and you will always be able add your own style into the house. One of the most common questions we've received is from clients wondering if a modular side addition can be customized—of course it can! The sky is the limit when you choose a modular side addition to your Toronto home.
Start the Building Process Today
As full-service modular builders, the entire team Modular Additions Team takes care of every aspect in your home renovation project, from the permits to codes to transport to cleanup. Getting a side addition has never been easier. We also provide helpful information on how to finance your side addition, so don't hesitate to contact us. We make your dream home an accessible reality. Expand your home in style and contact us to get a free estimate in Toronto, ON, today. As long as you can dream it, we'll build it for you! Reach out now to get started with the hassle-free building process.
Call Modular Home Additions today for a free quote!