Home Renovations in Toronto, ON
Taking Your Home to the Next Level
Do you spend hours poring over home décor magazines? Or maybe you spend your evenings watching TV dedicated to home makeovers. No matter where you get your ideas, you probably have a vision of what your home would look like if you just had the time and money. Modular Home Additions is here to make your vision a reality. We work with homeowners throughout Toronto, giving them homes they've always wanted quickly and affordably. Our modular concept is designed to ensure your project is finished on time and budget, with little to no disruption to your day. Find out more about what our team can do for you.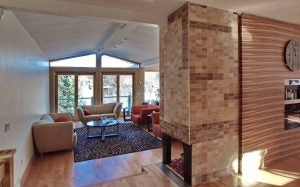 Types of Home Renovation Services We Offer
At Modular Home Additions, we're always excited to take on new projects. Our home renovation contractors have years of experience, with a variety of projects under their belt. We can help you renovate your bathroom, giving you the space that you need. Whether your bathroom has outdated fixtures, or you could use extra cabinet space in the kitchen, we're happy to create a design that meets your requirements. We can also help you navigate the home addition process.
Reasons to Renovate Your Home
Many homeowners avoid home renovations and additions because they fear the extra stress of such a major project. But the team at Modular Home Additions will be with you every step of the way. We can think of lots of reasons to go forward with your home renovation, especially since we'll be taking care of all the hard work. Here are just a few reasons to invest in a renovation:
Updates: Don't deal with old, malfunctioning bathroom fixtures! During a home renovation, you can install much-needed updates.
Property Value: A newly renovated home will enjoy a boost in property value. This advantage is especially attractive if you plan to rent out your home.
Energy Efficiency: Most older homes were not made with energy-efficient materials. With a home renovation, you can replace fixtures using too much water or poor insulation that is skyrocketing your utility bills.
Increased Comfort: A renovated home is a comfortable home. After a full kitchen or bathroom renovation, you'll enjoy increased comfort and functionality from these spaces.
Match Your Style: When you buy a home, you typically don't get to choose paint colors, flooring types, and cabinet layout. However, a home renovation allows you the opportunity to tailor the space to your preferences.
Our Tips for Home Renovation
Renovating your home is certainly a challenge. Kitchen renovations and bathroom renovations alike can take lots of time and money. Unless you've redesigned your home before, you may not know where to start as you embark on a new renovation project. Fortunately, the team at Modular Home Additions has several tips for homeowners looking to revamp their homes. Follow these simple tips and get in touch with us to learn more:
Early Planning: Start planning your home renovation weeks before you ever break ground on the project. Having a solid plan in place will make the rest of the process that much easier and stress-free.
Consider Your Budget: Home renovation can quickly break the bank. Make sure to have an idea going into the planning process for how much you'll want to spend. Once you have a budget, hold yourself to it.
Explore Your Options: Don't only check out one website or department store. Look at a wide variety of options when it comes to countertops, cabinets, and lighting fixtures.
Plan for Storage Space: Lack of storage is a common reason so many, people want to renovate their homes. Be sure to plan for your new storage space in advance.

Address Lighting: Lighting fixtures aren't the only way to brighten your space. Consider any windows and window treatments that might affect the light in your kitchen or bathroom.
Think About Colour: When painting your walls, it's tempting to choose your favorite colors and consider little else. However, it's crucial to consider how the lighting and paint colors will affect each other.
Why Toronto Residents Choose Us
Toronto residents choose Modular Home Additions for a plethora of reasons. Our customers rave about our speed and attention to detail in every home renovation we work on. We have a team of experienced contractors dedicated to fantastic workmanship and friendly customer service. We understand you have plenty going on in your life, and you can't press pause for a home renovation project. That's why our team strives to make our services quick and easy, with little to no hassle on your part. Let us take care of all the hard work while you sit back and relax!
Get in Touch with Our Contractors
We're excited to help you get your home renovation project started! Our team has worked with numerous Toronto, ON homeowners, creating beautiful kitchens and functional bathrooms. As you choose a contractor for your project, keep in mind that we cannot accept projects that are less than 500 square feet. Please let us know your ideas ahead of time, and we will work to make your vision a reality. Contact us today for details.