Kitchen Additions in Toronto
There's a good chance you'll spend a great amount of your day in the kitchen with your family. From making meals to having a quick breakfast, food and family in the kitchen are an important part of your day. That means your kitchen renovations should create the functional and beautiful space you've always wanted. If you're on the market for a kitchen add-on as part of your home renovation in Toronto, ON, give Modular Home Additions a call. We have nearly two decades of experience in providing durable, high-quality kitchen additions in Toronto and the surrounding areas. Contact us at your earliest convenience to get the kitchen of your dreams. We can handle all your kitchen additions and renovations.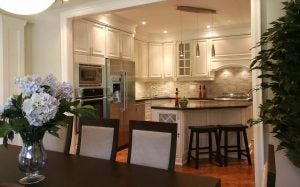 Why a Modular Home Addition?
If you bought a home that was built more than a few decades ago, you may have a closed-off kitchen that's not as functional or as spacious as you would like. If that's the case, you probably want to start a kitchen addition or remodel project to make your kitchen more attractive or homey. When you choose one of our modular additions, we can easily expand your kitchen without you having to leave your home for an extended period of time, if at all!
Instead of dealing with the messy, time-consuming demolition and construction process required by traditional additions or renovations, you can enjoy reduced construction time. We can finish your addition in a few days. Plus, your new kitchen addition will be energy efficient and create as little construction waste as possible. This means saving on heating and cooling costs, all while helping the environment! Most importantly, all of our kitchen additions are constructed to seamlessly blend into your original house.
Types of Kitchen Renovations
Some of the kitchen renovations we offer include changing your kitchen layout. For example, some of the space shapes we provide include:
C-shape kitchen: The C-shape includes a peninsula, but everything is in easy reach, making it useful for medium-sized kitchens.
I-shape kitchen: An I-shaped kitchen is ideal for smaller, compact apartments that don't have much space.
L-shape or "galley" kitchen: With an island in the center, this trending option is commonly used in more open, larger kitchens. However, we can customize this kitchen addition to fit almost any-sized home.
Whatever kitchen style you want, we'll work hard to make it happen!
Kitchen Additions
Some multifunctional kitchen additions we can add include:
Furniture such as a peninsula or an island
Appliances
Cabinets
And more
We can also update the design of your kitchen. We take care of all the permits and adhere to all Toronto city codes, so all you have to do is sit back and watch your gorgeous new kitchen come to life!
Reach Out to Get Started
If you're unsure about how you want to design the kitchen of your dreams, the friendly contractors and design experts at Modular Home Additions in Toronto, ON, would love to help you get started. Reach out to us for a stunning home addition today!
 Call us today for a free, no obligations quote.